Social media has changed the way people access information and engage with one another, and the way brands can successfully reach their audiences has changed too! There's no debate that video is taking over the internet- making up 69% of all global traffic in 2017- and that number is only rising.
Moving forward, brands will be challenged to capture and hold the attention of viewers that are avidly avoiding ads with the help of popup blockers and other distracting devices. In order to do that, it's important to know where the consumers are spending the most time online.
According to the Q1 2017 Sprout Social Index, social network preferences vary by generation.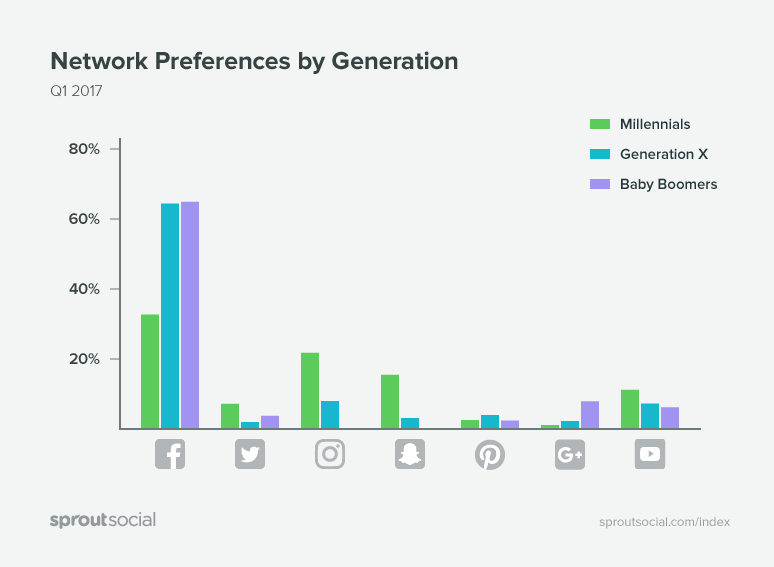 What's drawing their eyes?
While each platform supports visual elements like graphics and videos, the younger generations are especially interested in the more visual platforms like Facebook, Instagram, Snapchat, YouTube, and Pinterest. This comes as no surprise as the youngest generation is watching an average of 68 videos a day! This is important for brands to consider when deciding which marketing strategies and tactics will be most effective in sharing their messages.
Depending on the target audience, it will also be important for brands to consider platform diversity for marketing tactics. This is another reason why video serves as an excellent tool as it can be used over a broad range of social media platforms. If your organization is looking for a better way to capture your mission and share it with the world, let us know, or check out the motion graphic videos we've created for other companies!